Class Details
Length:

2 sessions, 4 hours total

Class Format:

On-demand teleclass to take anytime, at your convenience. You will receive links to 4 hours of MP3 recordings (from a live class which includes the questions, comments and interactions of the participants with the instructor) and PDF's containing 13 pages of handouts.

Tuition:

$98



Instructors: Panel discussion featuring Dr. Karen Randall, DVM of Solace Veterinary Animal Hospice and professional animal communicators Kristin Thompson and Carol Schultz. Moderated by Teresa Wagner.
Who Should Attend: This class is ideal for anyone who wants to further understand what animal hospice is and is not, and to benefit from emotional, spiritual and practical support regarding preparation for and being present with our animals near the end-of life period of time. Particularly helpful for veterinary professionals, counselors, therapists, animal communicators and other animal care professionals who want to support others through the emotionally challenging time of anticipatory grief.

Register: Click here to purchase (This link will automatically redirect you to the Animals in our Hearts web site for purchase.)
Testimonials: Click here

For students enrolled in the certification program:

This is a required class
Prerequisite: Preferable to take the first three CORE classes first
Required Reading:


  

Blessing the Bridge, What Animals Teach Us About Death, Dying and Beyond

by Rita Reynolds


  Hospice and Palliative Care for Companion Animals: Principles and Practice by Amir Shanan (Editor), Tamara Shearer (Editor), Jessica Pierce (Editor).
 The first book includes personal stories of being with animals during euthanasia which can provide emotional preparation and support.
The second book describes both drugs and many helpful resources for palliative care. Knowledge of these and how they can assist our animals can help reduce fear and anxiety.

Fee for Coaching & Mentoring session held after submission of Written Class Review: $198

(fee not applicable for students who have pre-paid the entire certification program fee which includes these sessions)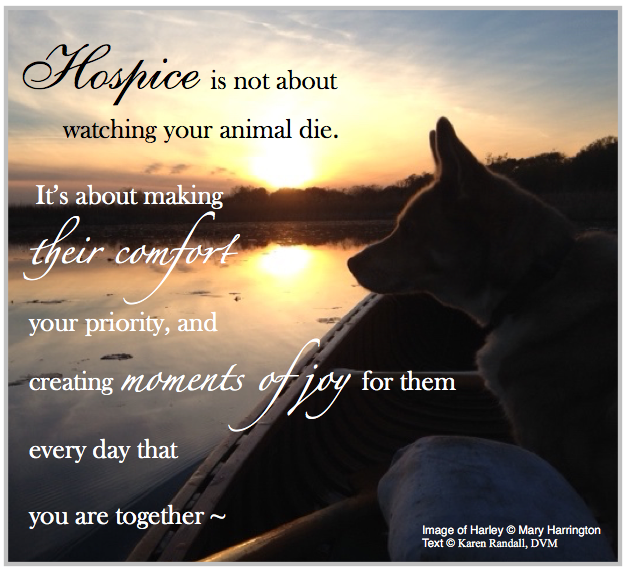 Objectives
In this class you will have an opportunity to:
Acquire a thorough understanding of animal hospice as comfort versus curing, the difference between home hospice care and hospice sanctuaries, and hospice guidelines from the American Veterinary Medical Association, the American Animal Hospital Association and the International Association for Animal Hospice and Palliative Care
Learn why it is a myth that hospice care precludes making a choice for euthanasia at any point in the hospice journey
Gain practical tips from a veterinarian hospice specialist about how to become more comfortable with physical aspects of home hospice care such as administering medications, giving subcutaneous fluids and other specialized care that animals in late or end stages of life may need
Discover the meaning of "joy therapy" and the value of providing it for our animals during their time of hospice
Become familiar with a veterinarian hospice specialist's perspective of specific helpful actions we can take for our animals during the time of hospice that are helpful, and those that are not helpful
Learn ways to work constructively with your animal's veterinarian during this emotional and stressful time
Increase your awareness of the benefits of proactively managing, coordinating and documenting information received from all service providers on your team of professionals who are helping your animal
Learn from the stories of real people and animals about their hospice journeys, including the challenges of dealing with our emotions and fears, how to not project our fears onto our animals, dealing with doubts about decisions and the stress and heartbreak of anticipating euthanasia
Learn practical strategies to deal with pressures and judgements from others about our choices during this challenging time, such as if and when to euthanize, whether to go through with expensive treatments, use holistic remedies and treatments, etc.
Recognize the importance of balancing the needs of your animal, the needs of the relationship, and your own needs, and suggested ways to do so
Become familiar with resources beyond this class to help both yourself and your animal during the challenging time of hospice
Content and Purpose:
At the first indication of a serious health condition with our animals, we often gear ourselves into action to find and provide the best possible care for them. It is often a time of exploring every potential treatment known for the condition, a time of moving all energies toward physical healing. It is a time of hope. In the instances when the time comes that it is clear that our animal's condition will not heal and is terminal, we are then presented with the painful challenge to surrender to what we cannot change—that our beloved animal will die. This time of animal hospice can feel like a time of helplessness.
This shift from providing the best possible quality of life to the best possible quality of end-of-life care is an essential one that our animals deserve. However, it compels us to face our own pain rather than run from it. Perhaps, this is the emotional core of hospice for us: acceptance versus resistance of the impending death of our loved one, and acceptance versus resistance of our own emotional pain of anticipatory grief. This energy of acceptance gently and significantly reduces emotional suffering and invites in the presence of peace and grace during the time of animal hospice. It opens the door for what Dr. Karen Randall of Solace Veterinary Hospice calls moments of "joy therapy" for every day that we have left with our animals.
It can be hard to come to such acceptance and to not be overwhelmed by our anticipatory grief. Preparing to say goodbye to someone we profoundly love is not easy. We all need loving support and practical assistance during these times. In this class you will receive guidance for both practical issues of physical care and the emotional and spiritual aspects of providing hospice care for your animal loved ones. You'll learn specific guidelines and practical tips to help you through the sacred time of hospice with your beloved animal and hear stories about real people and animals and the animal hospice journeys they have experienced.
You may also benefit from the related classes on Flower Essences for Illness, End-of-Life, Caregiver Stress and Healing Grief and Understanding  and Preparing for Euthanasia.
I have learned to ask for
guidance from my animals,
to listen to them,
not just myself. . .
helping them despite my
own fears and longings,
and being truly willing to let go.
~ Rita Reynolds, Blessing the Bridge
Animal Hospice Session 1:
With Dr. Karen Randall of Solace Veterinary Hospice

Animal hospice as a focus on "caring vs. curing"
How animal hospice is different from human hospice
How home hospice for animals is different from sanctuaries that take in older animals for the rest of their lives until their death
Does animal hospice mean "no euthanasia?"
Does animal hospice involve only home euthanasia service, or is it more?
Tips for how we can all become more comfortable with administering medications, 
 giving subcutaneous fluids and other specialized care that animals in late or end stages
 of life may need.
Specific things we can do to make the situation the best it can possibly be for the animal and 
 the person; being aware of things that are not helpful to the animal.
What physical things do we need to be prepared for during the end of life period for our animals?
How can we work best with our animal's veterinarians during this emotional and stressful time?
Advice for those who create a team of multiple service providers (i.e. western vet, holistic vet, oncologist, acupuncturist, animal communicator, energy healer): how to manage this 
to make it work harmoniously and to derive and share the important information for the sake 
of your animal.
Animal Hospice Session 2:
With Professional Animal Communicators Carol Schultz and Kristen Thompson
These two seasoned consultants share and discuss stories from their own practice and their own lives about the following issues

Their most significant learning from animals and people they have worked with at end-of-life animal hospice periods
Thoughts and reminders about what they found to be helpful when moving through 
compassionate dying experiences with their own animals
Thoughts and tips on how we can handle others placing pressure on us, i.e., telling 
us that euthanasia is a bad thing, that only unassisted death is ok, or, conversely when someone
 attempts to push us into euthanasia when we may think it's too soon. Or when we feel pressured 
into doing a very expensive medical treatment that is beyond our budget capability, or feel 
guilty when we can't afford certain treatments or procedures.
How do we provide love & support for our beloved animal when our heart is breaking at the
 thought of losing them?
Testimonials

Very impressed with class!

This animal hospice class was extremely informative from all perspectives. I took it mainly because because I have had to say good bye to five of my best friends. I had no idea about animal hospice and I wanted to know more about exactly what, who, where, etc. was involved. I was very impressed with the overall class!
~ Kathy S. Oregon

Very compassionate and gentle guidance

So timely for me, and Kristin, Carol and Teresa all provided very compassionate and gentle guidance to navigate these very difficult and emotional waters. It was just what I was hoping for. It is the perfect class for someone who has just had a close animal friend transition or is about to have one do so. It gives you some of the medical options and things to keep in mind as well as how to deal with it on both an emotional and spiritual level.
~ Ellie G, Madison, Connecticut


Would definitely recommend to others
I would definitely recommend this class to others. The most positive experience was listening to Dr. Randall because I am hoping to get into animal hospice work and possibly open a hospice in my area.
~ Veronica M, Florida

I now have support, knowledge and tools to help me

I feel so much more prepared now for when the hospice time comes for my animals. I thought hospice was a "place" and now understand it is a philosophy of care. I don't look forward to the day when this comes for my little ones, but I feel I now have support, knowledge and tools to help me. Thank you!
~ Olivia A, New Mexico

Insightful, compassionate, honest, and helpful

I especially enjoyed part 2 from the animals perspective. I am a animal Reiki practitioner as well as a person who has had to make some tough decisions recently regarding my animal companions passing. I found the class to be extremely helpful. It was very informative, understanding, insightful, compassionate, honest, and helpful.  Highly recommend.
~ Winifred P, New York
Now I am not so scared

I feel SO much more prepared for the next time I face one of my animals dying. Of course I dread it. I think we all do, but now I am not so scared. I will always be sad and grief stricken, but now I just feel so much more of an understanding of what I can do for both my animals and myself during these times. Dr. Randall, Kristin, Carol and Teresa were all in their own way so helpful to all I learned. I liked the panel discussion method. They all had varying experiences which enriched my learning. Thank you!
~ Susan S, California
I can't thank you enough for this class

I thought animal hospice meant you would never use euthanasia, even if your animal was in terrible pain. I was very relieved to learn that this is not the case. I learned so much from Dr. Randall and the others. I also learned so much about how we can, and should, listen to our animals during these times, and to trust that because of our bond, if we are quiet and trust ourselves, we will know, we will somehow sense, what out animals want. I can't thank you enough for this class.
~ Amy F, Maryland
Veterinary hospice,
as defined by the American Animal Hospital Association,
"focuses on giving pets a safe,
caring, intimate end-of-life
experience in their familiar environment."
Like human hospice,
on which it is modeled,
veterinary hospice is not geared
toward curing disease.
Its purpose is to alleviate
the physical discomforts
and emotional stresses of dying.
~ Debbie LeLouise and Marion S. Lane,
"Pet Hospice Caring to the End" article in PetFinder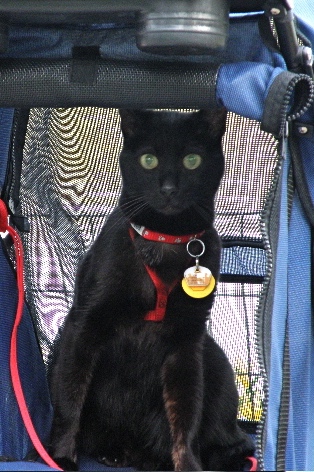 Save
Save
Save
Save
Save
Save
Save
Save
Save
Save
Save
Save
Save
Save
Save
Save
Save
Save
Save
Save
Save
Save
Save
Save
Save
Save
Save
Save
Save
Save
Save
Save
Save
Save
Save
Save
Save
Save
Save
Save
Save
Save
Save
Save
Save
Save
Save
Save
Save
Save
Save
Save
Save
Save
Save
Save
Save
Save
Save
Save
Save
Save
Save
Save
Save
Save
Save
Save
Save
Save
Save
Save
Save
Save
Save
Save
Save
Save
Save
Save
Save
Save
Save
Save
Save
Save
Save
Save
Save
Save
Save
Save
Save
Save
Save
Save
Save
Save
Save