Class Details
Length: 2 sessions, 4 hours total (each session 2 hrs plus additional 30 minute Q&A)
Required or Elective*: Elective
Class Format: Live January 12 & 19, 2019    1 pm – 3:00 pm PT
Also available on-demand (as of February 2019) to take anytime, at your convenience. You will receive links to 5 hours of MP3 recordings (from the live class held in January 2019 which includes the questions, comments and interactions of the participants with the instructor) and PDF's containing several pages of detailed handouts.
Tuition: $150
Coaching and Mentoring Fee*: $150
Required Reading*: Spiritual Bypassing, When Spirituality Disconnects Us from What Really Matters, Robert Augustus Masters, Ph.D.

Prerequisite: None

Instructor: Teresa Wagner, MS
Who Should Attend:
• Anyone who currently feels or has felt guilty about any aspect of their relationship with their animal and would like to come to terms with their guilt and find peace
• Loved ones and professional helpers who would like to learn how to effectively help others who are suffering from guilt
• Though the focus and most of the examples in the class center around our relationship with animals, the concepts and process taught are applicable to any context of feeling guilty.
Register: Click here to purchase (This link will automatically redirect you to the Animals in our Hearts web site for purchase.)
Testimonials:


    *For Certification Students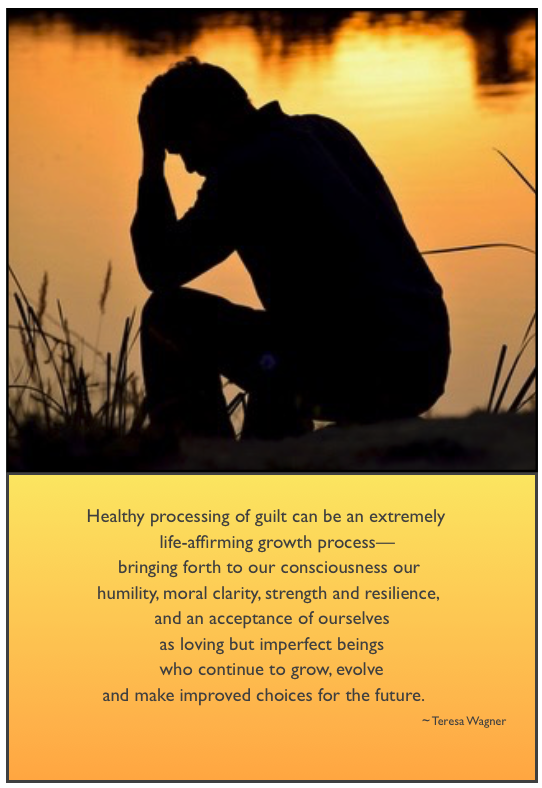 Content and Purpose
In over thirty years of providing grief counseling for people who are mourning the loss of their beloved animals, a great majority of them have described feeling guilty about some aspect of their relationship with their animals. Sometimes it centers around their care of their animal during an illness or hospice period. Very often it is about choices regarding euthanasia. Others have described feeling guilty because there were times when they believe they did not do best for their animal in some way during their life together. Additionally, what I've seen with numerous clients is that their feeling guilty—even feeling terribly, painfully stuck in guilt—is preferable (consciously or unconsciously) to facing and feeling the overwhelming anguish of their loss. Their guilt may be uncomfortable, but it may also be preferable to facing the deep well of grief which has been kept at bay.
Guilt in any of these forms or others is normal. It honors our ability to question our conscience, to reassess our expectations of our behaviors, our values, morals and beliefs, and to attempt to cope with overwhelming grief. Despite being normal, feeling guilty is a very uncomfortable energy to live with. It can make us feel agitated, anxious, shamed, unfinished with our loss, incomplete with our relationship, and even unworthy. Until we explore and come to terms with our guilt and all the issues surrounding it, it's impossible to be at peace with ourselves.
Because feeling guilt is so uncomfortable, we often either bury it or wear it like a hair shirt to punish ourselves, rather than fully explore our guilt, learn from it, become a better person for it, and release it, forgiving ourselves and finding peace.
Healthy processing of our guilt can be an extremely life affirming growth process—bringing to our consciousness both our humility, moral clarity, strength and resilience, and an acceptance of ourselves as loving but imperfect beings, who continue to grow, evolve, improve and make new choices for the future.
When we stay stuck in our guilt and do not fully process it, a healthy sense of self is eroded. We may feel humble, but also "bad." Rather than seeing ourselves as a good person who may have made a mistake or behaved badly, we feel like a bad person undeserving of forgiveness and peace. Staying in such a place serves no one—not the one we believe we have harmed and not ourselves. Staying in such a place diminishes our ability to not only live fully for ourselves but hinders our ability to love others fully.
Getting there is not a simple process, but it is an extremely valuable and powerful one that anyone can learn. This workshop teaches a process to help us walk the path from guilt to peace–consciously, truthfully, gently and lovingly–and can be applied to any situation that has brought forth feelings of guilt. Learning to work through our guilt can have lifelong ramifications for our sense of self-worth and the health of our relationships for the rest of our lives.
Though the focus and examples in the class will be about our relationship with animals, the process you'll learn is universal and can be applied to any situation where feelings of guilt are involved. Once you've taken the class, the process is yours to use the rest of your life, and can be shared with loved ones and clients to help them through their own healing of guilt.
  Seeking a
 third party to absolve us of guilt or forgive us without engaging in any significant self-exploration

 keeps us powerless over our own healing, powerless over learning to cope with our own feelings in a healthy way. Having the person or animal we believe we have harmed tell us they forgive us, having a friend or professional tell us we did the best we could, or a clergy member tell us that God has absolved us of our sin may temporarily 
decrease our sense of guilt. However, seeking this choice of third party absolution without any self-exploration is akin to having someone give us a loaf of bread 
 when we are hungry but not learning how to bake bread or how to earn a living so we can  bake or buy our own bread when needed. What will happen the next time we are 
 hungry? What will happen the next time we are feeling guilty if we remain dependent on others to absolve or forgive us?

 Having someone we believe we have wronged forgive us can feel like a blessing of grace, or feel like a huge burden has been lifted. Yet until forgiveness for ourselves comes from within, any sense of guilt will never be fully healed.

Session 1: Understanding Our Guilt

Cultural influences that can make it difficult to heal guilt
Self-Assessment:
Common situations in our relationships with our animals that can trigger a sense of guilt
Why we may feel guilty and why we may stay stuck in it
Defining guilt and the purpose it may serve
Important principles of guilt that must be followed for healing to occur
Examining the choices we have to deal with guilt:
• Courageous self-exploration and eventual self-acceptance and self-forgiveness
• Punishing ourselves without any self-exploration
• Abdicating responsibility to a third party to heal our guilt without any self-exploration
• Avoiding or escaping guilt without any self-exploration
Between Sessions 1 and 2: Read and work through the handouts on The Process for Moving From Guilt to Peace in preparation for the discussion in Session 2
Session 2: Coping With and Healing Our Guilt

The Heart of the Program:


The Process for Moving From Guilt to Peace:  A Practical, Step-by-Step, Supportive Approach to Explore, Understand, Heal and Release Our Sense of Guilt
Tools to cope with and heal challenging and overwhelming feelings that can go hand in hand with guilt:
Anxiety, worry, shame, depression, feeling like a failure, feeling unfinished with the relationship or the loss, feeling like a bad parent/guardian, feeling unworthy, etc.
Important final reminders
How to support others who are struggling with guilt
Further Resources About Guilt
Exaggerated self blame creates and perpetuates on going emotional upset and blocks constructive motivation to change, the ability to move on to experience peace.
~ John Wilson, The Posttraumatic Self, Ph.D.